Our Downtown is Alive with Activities
There is always something to experience in downtown Celina. Hereas your chance to participate in specially planned activities.

Don't forget to check the municipal parking lot off East Fayette Street if you're hunting for a parking space!

Spring Eggstravaganza
Hop on down to Celina Ohio for a Hare Raisin' Time!
Local stores will have sales, special activities, a golden egg hunt for prizes, storytime at the Library, egg decorating contest and much more!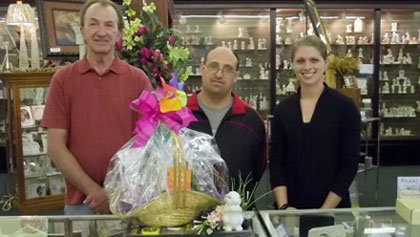 Pictured from left to right:A Ted Torge of Card Mart, Kevin Weitzel-winner, & Michelle Huber of Mommy & Me and the Spring Eggstravaganza Chairperson.
Winner of 2012 Golden Egg Hunt
Pictured is the winner of the Golden Egg Hunt that was held the end of March in conjunction with the Spring Eggstravaganza in Celina.A Several Celina merchants donated prizes and gift certificates that valued over $300.A This beautiful basket was arranged by Card Mart.A Like the Celina merchant facebook page and keep up with all sales and events.A
Art Walk By Pumpkin Glow - October 22, 4pm-10pm
Hosted by Downtown Celina Merchants
Downtown Celina lights up with artists, music, retail specials and tasty treats. This event is held mid-October in Downtown Celina Ohio. The merchants gather pumpkins and artists for this festive affair. Over 30 artists from all over Ohio will display, sell and demonstrate their unique art! Painters, potters, glass blowers, and much more can be found along the Main Street!
The merchants serve hot cider, and fall treats while providing an array of live music. Special events are scheduled throughout the town. Come enjoy a little culture and cuisine.
For more information call 419-584-1705. Free for artists.
Celina Farmersa Market
Farmers' Market is held at the Mercer County courthouse at Main and Market Streets in Celina, every Saturday morning from 8am until noon from June through October. Vendors are allowed to set up their products with no set up fee. Merchants are permitted to sell locally-grown/produced food and crafts. On any given Saturday morning shoppers find fresh fruit and veggies, baked goods and preserves, or even hand-made jewelry. (Farmer's Market is closed July 23-25 for the Lake Festival.)
NEED LOCAL FARMERS AND LOCALLY GROWN OR MADE PRODUCE AND HOMEMADE GOODS! Taking Reservations from farmers and other local produce growers, artists, bakers for a spot at the Local Celina Farmers Market on the Main Street Square! Begins June 1 and contiues through the month of August. Free for farmers. Call 419-584-1705 if you have any questions!
Lion Club Halloween Parade
October 30 - Downtown Celina
Holiday Open House - November 1-12
Celina brings in the Holiday season with a bang! Our quaint town always decks the halls during our Holiday Open House. Our local stores offer enticing holiday foods samples, great sales, live music decorated Christmas trees, door prizes and much more. This event is good for all your senses- smell, taste, touch and see! This event is a must DO!
Midnight Gladness - December 2
Midnight Gladness is an all-time local favorite! This event has become tradition to many. The first Friday in December, local merchants join together to make this festive event last until midnight! Sales, samples, nativity scenes, ornament decorating contests, bake sales, horse and buggy rides, bonfires and much more! It's a great time to find unique gifts for all your family and friends! Come to Celina and join in on the hustle and bustle!
Grand Opening Celebration & Taste of Celina
Thanks to the dilligent work of our committee and the overwhelming response of our customers, the first annual Taste of Celina was a tremendous success. We are definitely in the process of planning a "second annual" Taste for next summer! If you enjoyed the Taste, join us for the Art Walk by Pumpkin Glow this fall. Art and tasty treats, what could be better? more info
---
Atelier Salon
Watch along Atelier Salon's outdoor mural for special events: Karma Yoga Saturdays @ 9-10am, classes given by Angel (donation for class), musicians, artists--all welcome!
---
Identity Hair Salon
New Tanning Bulbs and Hot prices on Tanning!
---
Java Nation / The Potter House
January 16: Kids Day Out
Free Lunch with Pottery Painting of $10 item or greater (Lunch includes 6" cheese pizza and cookie) Beverage sold separately.
January 26: Artsy Fartsy Art Workshop
A skilled instructor will lead you step-by-step through the process of recreating the featured artwork of the month. At the end of the evening you will have a unique creation and a newfound talent that you will want to explore. Beginners welcome - NO experience necessary. This is Art Entertainment. Reservations Required. $35 per person includes all supplies, instruction and one glass of house wine.
January 27: Kinsey Fennig
Local singer will be performing from 6:30 to 8pm. This will be her final performance before heading to Los Angeles. Wine tasting from 6-8pm during her performance. $8 per tasting. (TASTING INCLUDES 3 WINES)
February 4: Kids Cooking Camp, Valentine Theme!
Call For Details. 419-584-1705
Tuesday, February 14: Romantic Valentine's Set Dinner
Gourmet Menu 2 seatings 6-7:30 and 7:45- 9:15 Reservations Required. Call For details.
February 20: No School Kids Day Out
Free Lunch with Pottery Painting of $10 item or greater (Lunch includes 6" cheese pizza and cookie) Beverage sold separately.
February 24: Wine Tasting and Live Music
From 6-8pm $8 per tasting (includes 3 wines)
March 9: Wine Off
We are seeking wine makers to strut their stuff. Show off your wine! We will have a contest to see who has the best homemade wines! Details to come. Wine Makers need to register! Call for details! 419-584-1705
---
The 211 Club
Every Thursday, Friday & Saturday a DJ!
January 6 a The Niche
January 7- Zach Laffin
January 13 a Drive Fast
January 14 a Jimmi Big Rig
January 20 a Brett Mullins Solo
January 21 a Country Mile
January 27 a Razz
January 28 a Mo Blues
February 3 - TBA
February 4 a JFX
February 10 TBA
February 11 a Next to Nothing
February 17 - Brett Mullins Solo
February 18 a Blue Moon Soup
February 24 a That Lousy Band
February 25 a The Gunz
In March we are bringing in an internationally known Texas band: Hamilton Loomis. He tours the US, UK, Germany & Australia. If you're interested go to hamiltonloomis.com .